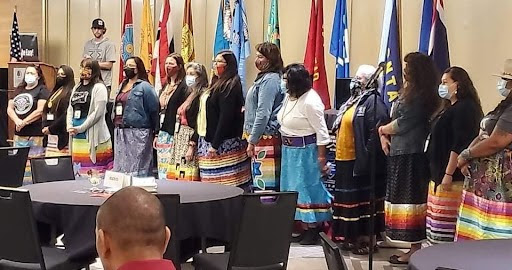 Tribal Public Health Conference
"Changing Time 2021! A New Era in Tribal Public Health" conference was held in Billings in August. It was a chance for tribal members and tribal member partners to come together to create healthier communities. It was about historical trauma, but it was also about historical empowerment. Coming together to find not only traditional pathways, but new pathways to connect to our culture. 
We learned about approaches for evidence based models that take into account the trauma that Native people have endured throughout other studies. Whenever studies are being done with Native populations, make sure to include the tribe in fact some tribes have Institutional Review Boards (IRB) for this reason. 
There was a session on how we can solve the healthcare disparities by looking at local solutions that work for certain areas and populations. And this really reminded me of the prevention work that we do in our areas, where we look at what the community needs and specialize it towards what is needed. 
My favorite session was Ben Cort and if you ever have heard him you know how engaging and funny he is. And this session was no different. Everyone was talking, sharing their stories, laughing and actively listening.  He is a great example of cultural competency. Everything that he presented was tied back to Native culture. He was able to see people realize the difference between today's marijuana and the marijuana of the past. He also presented in a way that doesn't shame people and there was one participant that felt comfortable talking about their past use of marijuana. I appreciated his openness and how forward he was. If you ever get a chance to see him talk, please do. 
Our culture is part of public health and on Wednesday of the conference that was shown by being encouraged to wear your ribbon skirt for resiliency. At the end of the day there was a contest for the best ribbon skirt. I was one of those that won a prize. 
Overall, the conference was amazing and I not only gained knowledge, but I also made some great connections with people across the state. It also was a great reminder that we have to think outside of the box when it comes to Tribal Public Health. 
I am thankful to connect with those that work with Tribal Nations. And remember that we are not alone. And one final note, shoutout to Lindsey Houle for jumping over chairs to win a prize!